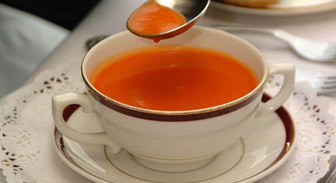 Indiana owes much of its culinary culture to immigrants from other parts of the country, as well as other countries. As such, a distinct Indiana flavor is necessarily a bit of an amalgam of various styles and tastes from various influences. That's okay, though: Indiana doesn't mind. They're proud that their flavor is based in hearty, typically "Midwestern" fare, emphasizing meats and vegetables.
Traditional Dishes
The pork tenderloin sandwich is considered an unofficial "official" Indiana delicacy. Served at fairs across the state, it consists, simply, of a breaded pork tenderloin slapped between two buns. Basic, yet tasty – it's one of the most popular dishes in the state.
There's also Indiana spaghetti, a variation on the traditional Italian dish, here served with bacon and round steak.
Of particular interest is persimmon pudding. An acquired taste, those that love it rave about its taste.
For something completely different, make sure and try Amish cooking. Northern Indiana has the largest Amish community outside of Western Pennsylvania. Specializing in meat and vegetable heavy dishes, with homemade breads and rolls, as well as hand-baked pies and desserts, Amish foods are not to be missed.
Famous Foods
A variety of different brands and food products have called, Indiana home. Van Camp's, a company specializing in beans, has been in business since 1861, when they sold canned vegetables from their family store in Indianapolis. Now a division of Con-Agra foods, they have popularized pork and beans, and its own "Beanee Weenee."
Popcorn is a famous Indiana dish, popularized by the Orville Redenbacher plant near Valparaiso. Started by Redenbacher in 1951, the Orville Redenbacher name became a household across the country, branded with this visage of bow tie and horn-rimmed glasses. Today, the Orville Redenbacher name continues to be the number one selling popcorn brand in the country. As well, the city of Valparaiso hosts an annual Popcorn Festival.
Produced by the Taggart Baking Company, located in Indianapolis, Wonder Bread hit the market in 1921. While the sliced loaves initially provoked mild suspicion in consumers, a market was quickly found, and Wonder Bread began its rise in popularity. When Taggart was purchased by Continental Baking in 1925, Wonder Bread went national, gaining a reputation as one of the most popular sliced bread brands in America, a reputation it still enjoys today.
Endangered Species Chocolate (ESC) is a rare company, and one that calls Indianapolis home. Founded in 1993, the company is firmly committed to the idea that all life is precious, including that of animals as well. ESC is ethically traded, organically grown, and part of its profits go toward species, habitat, and humanity preservation. ESC has also donated time and money to sponsor schools and water pumps in Nigeria.
Another famous Indiana company is the Red Gold Company, which has locations in Orestes, Geneva, and Elwood. Known for their tomato products – indeed, their mission statement is "To produce the freshest, best tasting, tomato products in the world" – Red Gold is one of the largest distributors and producers of canned tomatoes in the country. In business since 1942 as the Orestes Canning Company, the company currently has over 600 full-time jobs, with over 1,200 employees.
Brief History
Settlers to the Midwest encountered difficult seasons and winters, forcing them to make do with food supplies they had brought with them from the Eastern colonies. However, once the initial difficulties had passed, Indiana settlers began the process of establishing roots in the local area. This included raising various kinds of livestock, including hogs and sheep. They also planted and cultivated various foods – corn, wheat, and soybeans.
Over time, Indiana became rightly known as the "Crossroads of the Midwest," as their fare began to incorporate styles and flavors from other parts of the country, as well as ethnic fare from Europe and other parts of the world. Generally, typical Indiana food can be considered to have an emphasis on meat (beef, chicken, and pork) as well as traditional vegetables – beans, corn, carrots, and, especially, potatoes. Essentially, then, Indiana food is farm food, with ingredients that are grown locally on Hoosier farms.
Indiana farms are known throughout the country, and the food served in the state is reflective of the type of food grown and raised. There are a number of hog farms in the state, and corn and soybeans are popular vegetables.
Indiana foods are distinctive and interesting, promising to fill you up and leave you satisfied. Drawing a wealth of influences and styles, Hoosier fare is warm and hearty. Don't miss the chance to partake of traditional Indiana cuisine.
Print this Article