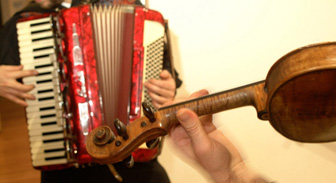 It doesn't matter what type of music you're looking for, as you're bound to bump into it in Indiana. And whether you're looking for an indoor show, an outdoor show, rock and roll, or jazz, Indiana can stake a claim to its display.
History
Though primarily influenced by other musical genres, the music of Indiana depends most primarily on ethnic considerations, as it bears influences from German and Irish immigrants. However, while there is a distinct lack of "traditional" Indiana music, the state itself has played an important role in breaking and producing major musical talent. Through the first part of the 20th century, Indiana was home to a major jazz influence, behind only Chicago and New Orleans. As well, Gennett Records, located in Richmond, was a recording studio that featured blues, country, and jazz musicians in the 1920s.
Artists
The musical heritage of Indiana is diverse and distinct. Many famous musical artists have hailed from Indiana, including Michael and Janet Jackson and John Mellencamp.
Gary native Michael Jackson is one of the most individually successful, and controversial musical artists, in the last 20 years. While his music has been nothing short of commercially and critically successful and influential, his personal life has been widely dissected by the media for his various peccadilloes and personality quirks. However, his solo musical career has garnered him 13 number one singles, and he's sold over 100 million albums.
Quite a few other musicians have come from Indiana to make it big on the national music scene. Former Guns'N' Roses lead singer Axl Rose and guitarist Izzy Stradlin are from Lafayette. As well, lead guitarist Mick Mars from the band Motley Crue hails from Terre Haute.
For fans of show tunes, the famous Cole Porter was born in Peru, IN, in 1891. He penned and scored numerous musical comedies including Kiss Me, Kate and Anything Goes, as well as the famous songs I Get A Kick Out Of You and I've Got You Under My Skin.
There's also Bloomington native Hoagy Carmichael who was a graduate of Indiana University, from which he received his B.A. and J.D. Within two years of graduating from law school in 1925, he began pursuing music full time. He penned one of the most famous and most-recorded songs of all time - Stardust.
Christian music also found a home in Indiana, as a number of famous and well-regarded Christian artists have called the Hoosier state home. Rich Mullins, a Richmond native, penned some of the most memorable Christian worship songs in history, including Awesome God.
A vital artist in the Christian music industry is Bill Gaither, who has appeared as part of both the Bill Gaither Trio and the Gaither Vocal Band. Tunes penned by his groups have become mainstays of southern gospel and Christian Contemporary music. As well, his songs have been covered by a variety of different artists, including the Statler Brothers and Elvis Presley.
John Mellencamp is perhaps the most famous Indiana native to make it big in the music industry, having recorded over 20 albums and become the musical soul for heartland populism. While he'd had a few tracks chart in the Top 40, notably I Need a Lover and Ain't Even Done with the Night. However, his breakthrough album would be 1982's American Fool. This album spawned three Top 40 hits, including his only number one hit, Jack and Diane. Currently in his 50's, Mellencamp continues to make music, releasing his latest album, Freedom's Road, in early 2007.
Events and Venues
Indiana boasts a number of interesting venues at which to enjoy a concert.
The Verizon Wireless Music Center in Noblesville is one of the best places to attend a concert in Indiana. An outdoor amphitheater – and a great one at that – the venue has an approximately 6,000 seat capacity, with another 18,000 lawn seats, meaning that the VWMC hosts some of the biggest concerts to hit the Hoosier State. Its central location, just north of Indianapolis, makes it easy to get to from almost anywhere in the state, as well as neighboring locations in other states.
If you're planning to be in the Northwest corner of the state, you shouldn't miss the chance to go to Piere's. Ranked fourth in the world for concert ticket sales, the club routinely attracts shows of all sizes and shapes, with many major headlining tours making the stop in Fort Wayne. As well as the main concert floor, the club also boasts four more clubs for every entertainment pleasure and musical taste.
The Little Nashville Opry is also another great spot for entertainment. In business for over 30 years, the Opry specializes in country music entertainment. Many famous country music artists, such as Kenny Rogers, Alabama, George Strait, Toby Keith,and Trisha Yearwood, have appeared there, as well as popular singers such as Wayne Newton and Tom Jones. In addition, while the Opry performs every Saturday night, each Friday evening The Little Nashville Express Band performs three hours of some of the best songs in country music.
For something a little more classical, and cultured, there's the Summer Music Festival, hosted by the Indiana University Jacobs School of Music. An annual event, it is one of the largest collegiate summer festivals in the country, featuring operatic performances, chamber music, jazz orchestra, and outdoor band concerts. It's certainly a show worth catching.
As well, Indiana plays home to a number of other, different types of smaller festivals (though it must be said that some of them are quite well known). For instance, the annual Elkhart Jazz Festival in Northern Indiana, has been called one of the best jazz festivals in the nation. It occurs every June, and should not be missed. As well, Indianapolis plays hosts to the Indy Jazz Fest, a three-day event commemorating the location of where some of the great jazz artists of the last century played.
If you're looking for something free and entertaining, the Indiana State Museum regularly – almost daily – hosts musical shows. The shows are completely free to museum members and are included in the admission price of tickets. Anything from professional groups to school choirs and the Indiana State Museum Choir may be performing – check it out.
And for something completely different, the Mathers Museum of World Cultures, located in Bloomington, houses one of the largest collection of ethnomusicology items in the entire country. Items come from all corners of the world, and at its core is the Laura Boulton Collection of musical instruments, with an emphasis on African and Asian instruments.
Whether it's an outdoor music festival or a educational museum in which to stroll, you'll find a premier musical events to attend in Indiana. With diverse music and varied festivals to experience, the Hoosier State is well worth a trip.
Print this Article